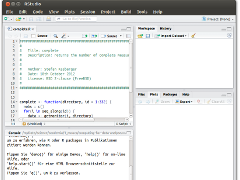 Interested in a short introduction in R and data analyses? Then join us!
On 24th of September starts the 4 weeks long introduction course Computing for Data Analysis on the Johns Hopkins University. It's a small introduction into programming in and working with R, data analyses and using of statistical methods.
Johns Hopkins University
For more informations and for subscribing go to the course page at the Freie Universität Graz.
Openness
Wie offen wird die Lehrveranstaltung umgesetzt:
Source
used Software
created Software
Programming Assignments: the source code will be published under FreeBSD License
Methodology
Access
Knowledge: we collect and share knowledge in the Open Science Wiki and on the Website
Software: as mentioned above
Course material: it is not allowed by Coursera to publish the course material
Data
The data will be published when it is allowed.