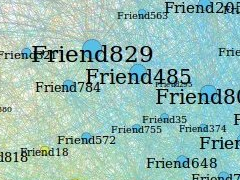 Learn about and analyse Social Networks in general and the ones in the web in special.
The course Social Network Analyses from the University of Michigan it's all about network analyses and graphs. During the 8 weeks you will learn to use Gephi, NetLogo and R to analyse and understand different networks and their structures. There will also be used an exercise from social networks like Facebook or Twitter.
University of Michigan
For more informations and for subscribing go to the course page at the Freie Universität Graz.
Open Science
The whole exercises and experiences will be documented and done in a free and open way as much and as soon as possible, related to the honor code and copyright law.
Especially we focus on building a knowledge base to work with Gephi, NetLogo and R, document our experiences with this Massive Open Online Course.
Interested in doing it the open science way? Then look here and join them.