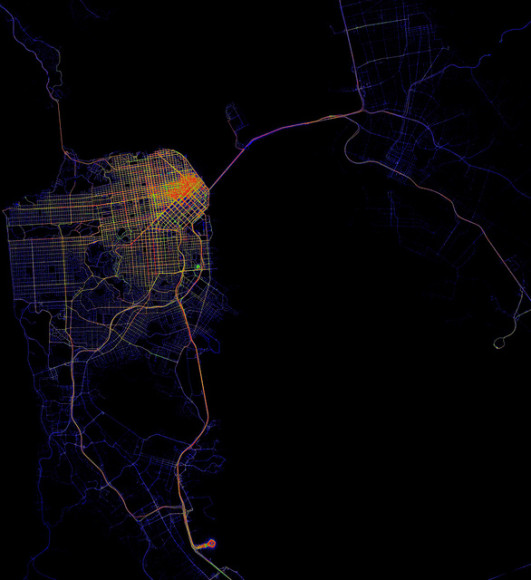 Changes in traffic speeds between 2008 and the present, CC by, by Eric Fischer
In der 5. Ausgabe des Open Science in Aktion Podcast, geht es um die Mobilitätsforschung.
Zu Gast ist Anita Graser vom AIT, die in diesem Bereich arbeitet, in der FOSSGIS Community aktiv ist und sich der Weiterentwicklung der freien Software QuantumGIS (QGIS) verschrieben hat.
In dieser Folge geht es zunächst um die Begriffsklärung, was Mobilitätsforschung eigentlich bedeutet, was das mit Open Science zu tun hat und wie offene Daten die Forschung voranbringen können.
Ein weiterer Themenschwerpunkt ist das Open Source Projekt QGIS, bei dem Anita mitwirkt und vor kurzem auch ein Buch dazu veröffentlicht hat.
Viel Spaß beim Hören!
Wir freuen uns wie immer über Kommentare und Feedback.
Aufnahmedatum: 21. Februar 2014
Shownotes
00:00:00 Anmoderation
00:01:17 Gast / Thema
Anita Graser, auf Twitter;
Austrian Institute of Technology (AIT), Mobilitätsforschung, Freie und Open Source Software für Geoinformationssysteme (FOSSGIS), Quantum GIS (QGIS), Buch: Learning QGIS 2.0,
00:02:17 Mobilitätsforschung
GPS, Bluetooth, Verkehrsfluss, Routenoptimierung;
Mobilität ist nicht zwangsläufig Verkehr;
Urbanisierung, Section Control;
00:09:06 aktuelle Buzzwords in der Mobilitätsforschung
Location Based Data, Big Data, Echtzeitdaten, New Cartography;
OpenStreetMap, Point of Interest (POI), OGDWien, Straßengraph Wien;
Spatial Analysis, Smart Cities, Parallelisierung, Geoprocessing, GPU;
00:21:42 Open Science in der Mobilitätsforschung
Open Government Data, Geländemodell für Europa;
personenbezogene Daten,Datenschutzkommission,
Open Access, Preprint;
00:27:35 Open Source in Geoinformationssystemen
Open Source, QuantumGIS (QGIS), Geoinformationssystem (GIS); Project Steering Committee , GPL, auf Github, ArcGIS;
QGIS Fallstudien, Project InaSAFE,
flattr,
00:35:25 QGIS
QGIS Plugins: TimeManager, pgRootingLayer, Web Mapping;
Blog von Anita; Buch: Learning QGIS 2.0;
00:41:12 Frauen in der Open Source Community
00:43:13 Warum QGIS?
"QGIS frisst alles";
unterstützt viele Datenbankformate: PostGIS, PostgreSQL, MSSQL, Oracle, SpatiaLite;
GDAL OGR;
GRASS GIS, SAGA GIS,
QGIS 2.0 Processing Toolbox,
Schwächen: Dokumentation aktuell halten; Dokumentation von Projekten auf denen QGIS aufbaut; wenig User Feedback;
00:50:17 Zukunft von GQIS
QGIS Server, Mapserver, GeoServer, Web Applikation, Web Processing, SLD;
00:53:32 offene Geodaten in Österreich
Es gibt schon viel, aber wir sind noch lange nicht am Ziel;
Open Government Data,
interessante Daten: Einwohnerzahlen, Landnutzungsdaten, Straßendaten, Geländemodell der Stadt Wien, ÖV Daten;
General Transit Feed Specification, INSPIRE (EU Richtlinie),
00:59:37 FOSSGIS
FOSSGIS;
01:02:08 Abmoderation
OSGeo Code Sprint 2014;
alle weiteren Infos zum Podcast;
Danke an die ÖH Uni Graz für die Unterstützung;
In 2 Wochen geht es weiter! Zu Gast ist Lisa Schilhan und es wird um Open Access an der Uni Graz gehen.