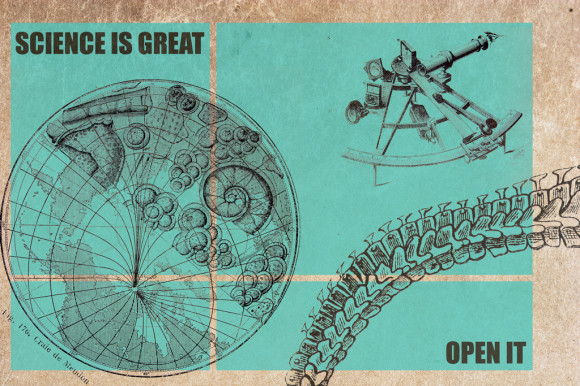 Science is great, open it (open science), CC by-sa, by Martin Clavey
In der dritten Folge des Open Science in Aktion Podcasts geht es um Open Science in der Forschung.
Zu Gast ist Peter Kaker. Seines Zeichens aktueller Panton Fellow bei der OKFN und Open Science Enthusiast, der sich auch in seinen wissenschaftlichen Arbeiten mit Open Science befasst.
Im Gespräch erfahrt ihr wie der Umgang mit offener Wissenschaft in der Praxis von statten geht, was es mit dem Panton Fellowship auf sich hat und warum die OKFN eine gute Adresse ist, wenn man sich mit Offenheit in der Wissenschaft und anderen Gebieten, auseinander setzt.
Wir wünschen euch wie immer viel Spaß beim Hören!
Aufnahmedatum: 29. Januar 2014
Shownotes
00:00:00 Anmoderation
00:01:11 Gastvorstellung
Peter Kraker, auf Twitter;
Know Center, Panton Fellowship, Open Knowledge Foundation;
Publikationen von Peter Kraker, Dissertation: Visualizing Research Fields based on Scholarly Communication on the Web (2013);
Mendeley;
00:03:33 Open Science in der Praxis
Github, Repository, Open Science;
NDA, Impact Factor;
Altmetrics;
Paper: The Case for an Open Science in Technology Enhanced Learning (2011), Open Access, Open Data, Open Source, Open Methodology;
Blog von Peter Kraker;
Zwerge auf den Schultern von Riesen ("Standing on the shoulders of giants.");
00:18:37 Panton Fellowship
pantonprinciples.org, Panton Fellowship, My objectives as a Panton Fellow;
It's the economy, stupid;
Open Knowledge Foundation Österreich, Open Science Meetup Wien (Dezember 2013), Video von der Podiumsdiskussion: Wissenschaft im Wandel in Graz (Oktober 2013);
00:25:15 Open Knowledge Foundation
Rufus Pollock, Open Science Gruppe in der OKFN, Open Science Gruppe in AT; openscienceASAP.org, monatlicher Sum Up;
OANA, FWF;
OKFest 2014 in Berlin;
OKFN Science Blog;
00:30:27 Warum Open Science?
00:32:31 Abmoderation
alle weiteren Infos zum Podcast;
Danke an die ÖH Uni Graz für die Unterstützung;
In 2 Wochen zu Gast: Guido Blechl, Juan Gorraiz und Paolo Budroni von der Uni Wien. Es wird um das Thema Open Access gehen.